An important component of my training method is my well-socialized and well-trained pack. The benefits manifest themselves in the following ways:
1. My dogs are trained to meet new dogs who may be unbalanced, aggressive, frightened, or previously incarcerated. All 3 of my dogs have their own personalities. Each personality easily transforms into a cohesive obedient unit once given a command.

2. Owners who need their pets to live in a household, behave on walks, get along with their other pets, and greet or pass by strange dogs in an appropriate manner, benefit from having their precious pooch live in my household among a calm, confident and balanced group of dogs.

3. Dogs often mimic the behavior of other dogs. I can accomplish more training targets in a shorter period of time, in part, because I am able to utilize my dogs' skills to teach a trainee desired behaviors by example.

---
Maylea – Shar Pei Mix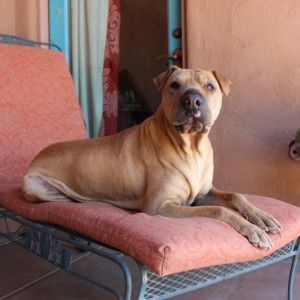 Maylea is now the senior member of my household.  She has a tail that never stops wagging despite the arthitis that has robbed her of her favorite pasttime, walking the desert.  She is full of joy and loves the companionship of other dogs and all people.  I love the burst of sunshine she brings into my life every single day.
---
Scarlett – Australian Cattle Dog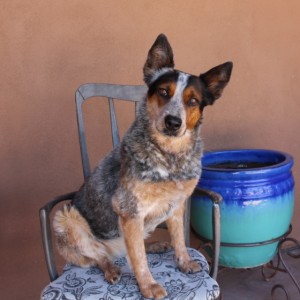 On June 27, 2011, Scarlett arrived for a 2-week rehabilitation to help Arizona Cattle Dog Rescue before they placed her in a foster home.  At that time, she was terrified of everything and everyone.  I knew her rehab would take longer than 2 weeks, so I decided to foster her myself.  Of course, she never left.  As she shed her fear and distrust, it became obvious that she was the perfect addition to my household.  She is always friendly with other dogs, very intelligent, and an important member of my pack.
---
 Bowie – Mini Smooth-Coated Australian Shepherd
Bowie came to join my household in July of 2016 when he was 9 months old.  He was re-homed by a heartbroken couple who couldn't keep him any longer.  It was clear he had lots of love from them before he joined my crew.  He has proven to be a most wonderful puppy and is a social director for all dogs that come in for training.  He reads dogs so well and approaches them in ways that engage them without overwhelming them.  He also knows when to stay away from dogs who aren't quite ready to make friends yet.  He is the perfect addition to my pack and to my life.
---
In Memoriam
Malcolm – Chinese Shar Pei
November 25, 2005 – August 20, 2015
2015 was a tough year at New Dogs – Old Trix.  We lost Sasha and Malcolm just 2 months apart.  They are both dearly missed, but Malcolm's loss has been particularly difficult.  At only about 10 years old, I thought I had years left with him.
After overcoming unthinkable physical and psychological problems when I first "temporarily fostered" him in 2006, he grew to be my go-to guy when new dogs arrived for training.  I always said he was born with a face only a Mother could love.  I can't express how much I miss that face, his antics and affection.
---
Sasha – Chow Chow/Cattle Dog
February 26, 2000 – June 25, 2015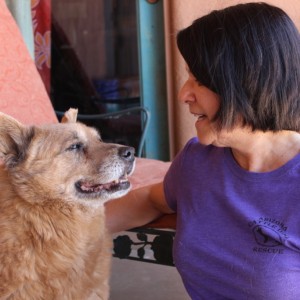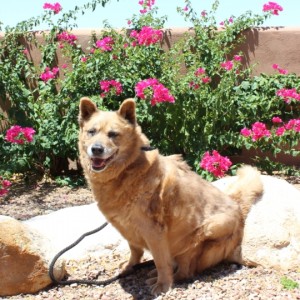 Sasha came to live with me in July, 2005.  She was 5 1/2 years old and was going to "stay" for a couple of months.  Of course, she never left and filled my heart and home with joy over the last 10 years.  Sasha was the Mother figure in my pack.  She loved meeting new dogs and was a shameless flirt in her old age when attractive male dogs would come for training.  Sasha was so smart, very loyal, and always loving.  My pack and I miss her dearly and she will remain in our hearts forever.
---
Bruschi – Shar Pei
April 28, 2001 – August 15, 2011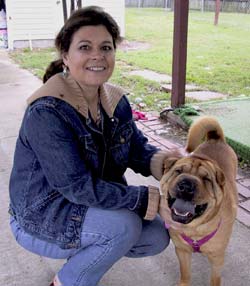 The sudden, unexpected loss of Bruschi is a great heartbreak. This smiling boy changed my life in so many ways. He was initially my greatest canine challenge and took me through many trainers and traumas. Unwavering persistence to get it right made him the most valued member of my pack. Sadly, he inherited his fair share of Shar Pei medical maladies. At the young age of 11, a combination of two of these maladies conspired to take him from me. He will live in my heart and mind forever. The personal and professional journeys he took me on ultimately revealed the language of canines and resulted in a passion for teaching other dogs to attain their state of balance. So long my noble friend, you are sorely missed.