As President of Arizona Cattle Dog Rescue, a non-profit dog rescue, as well as a behavioral trainer myself, I want to express my gratitude to Susan Del Signore of New Dogs-Old Trix in Tucson.
We first met through a dog adoption of one of our dogs, The General, by one of Susan's friends. Susan provided support for her friends by way of helping her friends in making the right decision in adopting General and participating in the introduction and integration of the new dog into their family. When some issues arose within the new "pack", Susan stepped in with her expertise and helped General and his new family achieve peace and balance. They are now one happy and fulfilled family.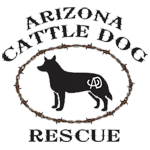 Over the coming months I have gotten to know Susan through many conversations as well as a few visits to her facility. We are kindred spirits in so many ways, but most of all with the dogs. It has been so refreshing to share experiences, observations and theories with someone who not only has a mind for behavior and training, but the heart to do what is right for each individual dog to help achieve balance through respectful guidance and fulfillment.
In April of 2011, our rescue pulled four dogs out of an extreme hoarding case that involved over 200 dogs. There were two in particular that were severely mentally damaged from their experience. Susan stepped up and offered to take both of them into her home and work with them for two weeks "pro-bono" for the rescue. I delivered them to her personally. This was our first meeting in person. While we were both excited to finally meet each other, as soon as we had hugged and said our hellos, Susan went into training mode, totally focused on each individual dog as she introduced herself to them and the others in her pack. To see that kind of focus and dedication was confirmation that they were in the right hands.
Susan worked miracles with one of these dogs and helped the other achieve balance much quicker than he would have had he not stayed with her. Damaged dogs that overcome their fears and achieve balance not only make them more adoptable, it's just the right thing to do. We here at ACDR are not here to simply save and adopt out dogs, we want to create forever homes for these dogs. We have a specific application and adoption process that is for the benefit of the dog as well as the human. Our dogs have already been a part of the system, whether it's because of abuse, neglect, abandonment or just hard luck, and we don't want any of them to be a part of that system again. Helping a dog become happy, healthy and balanced benefits everyone. When a dog is trained and balanced it can process change much easier and the transition to a new home is easier for both parties. Following that protocol, results in more forever homes and enables us to save more lives. We are dedicated to each and every dog we take in and adopt out; having Susan as a part of our team helps us achieve that mission.
Arizona Cattle Dog Rescue is proud to say that Susan Del Signore is a valued member of our team. She is wise and insightful. She communicates clearly and effectively with each of us concerning our dogs in her care. When a dog comes out of her training program she includes clear and concise directions for that dogs continued therapy. She is always available for questions and follows up with each and every dog/foster. Most of all it's her dedication to the dog it's self that make Susan special. She looks into the dogs eye's, sees the need and finds the way to fulfill it, honestly and respectfully. Any dog would be lucky to say "I'm going to Susan's to become all I can be"
Thank you Susan for your continued dedication and support of Arizona Cattle Dog Rescue,
Lorina Lopez
President
Arizona Cattle Dog Rescue
www.ArizonaCattleDogRescue.org
I can help.
Call Susan at 520-886-6357 to discuss your dog training needs.