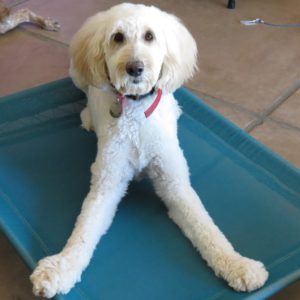 At New Dogs – Old Trix, our dog training approach starts with an initial evaluation.  Our initial evaluation will help you decide which training program is right for you and your dog.
As a guest in my home, your precious pooch will live in a comfy, climate controlled, smoke-free, snake proofed, safe environment. Training takes place throughout the day in short and easy to understand sessions. In addition, your dog will get a minimum of 2 daily training pack walks. These walks help to drain excess energy, foster socialization, and teach on- and off-leash skills under real life circumstances.
Healthy treats are provided to encourage good behavior without adding pounds.
In order to achieve maximum results in the shortest period of time, I work with one trainee at a time. Your pup will receive all the individualized attention necessary for a stellar result in the least amount of time.
---
Free Puppy Socialization Training Classes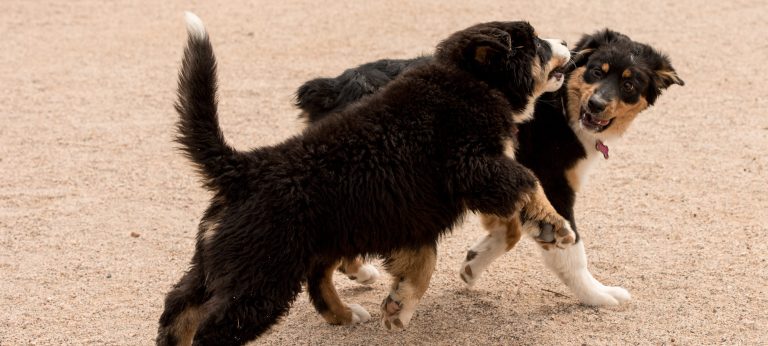 Susan Del Signore of New Dogs – Old Trix is proud to partner with Brittany Brauer of K9 Guidance To Inclusion to offer, free to the Tucson and surrounding areas, our weekly Prime-Time Puppy Socialization classes and Adolescent Dog Socialization classes. These classes are designed and structured for you and your puppy or dog to receive the most beneficial interactions between dog-to-dog play. Each class will help your puppy/dog develop into a social, appropriate and friendly dog. By bringing your puppy/dog, you will help enrich their life by fulfilling their basic needs for social interactions and continuing to foster their need to explore new environments.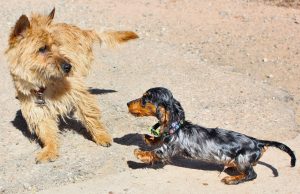 Dog parks can be a danger to your puppy or older dog for numerous reasons. They are infested with the potential for disease, no consistency for dogs with appropriate social temperament, owners who don't pay attention, inappropriate behaviors allowed to happen and escalate, with the serious potential for your dog to get into a scuffle, fight or even attacked. These are all very real, and very serious issues our clients faced prior to training with us. This is our motivation to offer these classes free to you!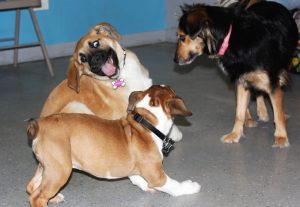 Our class structure is designed to teach healthy, appropriate play. We help teach puppies and dogs how to play with dogs of every size, not to be bullies, how to say "no" and how to respect when another puppy says "no", and so much more! They will play, run, jump, learn and explore through each free, weekly class they attend. We would love to have you and your new best friend join us! We can't wait to share in the laughs, puppy breath and cuteness overload that will ensue!
Classes will be held at New Dogs – Old Trix, located at 3042 S Quail Trl, Tucson, Arizona 85730.
Classes are held most Saturday's at 9am for puppies aged 8 weeks to 5 months, and 10am for adolescent dogs ages 6 months to 2 years in an fully fenced, snake proofed, large and beautiful arena located at New Dogs – Old Trix on the Southeast side of Tucson. To register, please call (520) 603-2772. All puppies must be between the ages of 8 weeks to 20 weeks for puppy class, and 6 months to 2 years for adolescent dog class, current on vaccinations for their age, and must not be showing signs of coughing, sneezing or lose stools. Please visit our Facebook page for most up-to-date cancellations. If you have questions about whether or not a class is being held, please text or call (520) 603-2772.
Please bring your puppy's most current vaccination records with you to your first class!
---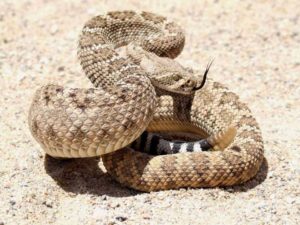 Rattlesnake Avoidance  Clinics – March thru September.
Please call 520-886-6357 for exact dates, times and location.
$100 with free annual rechecks.
---
The following structured packages are customized to you and your dog.  During Board & Train, I take the first week to lay the foundation with your dog.  After that, transition lessons with owners begin.  Owners are invited to participate as much as they are able in the training process.  I also provide additional follow-up sessions  with all programs.
Once a dog has successfully gone through our program, they are eligible to participate in our weekly Sunday morning pack walks free of charge, as well as, our Reid Park outings usually held on Wednesday evening.
Training is guaranteed for the life of your dog.
We recognize that competent, professional training is not an inexpensive proposition.  Our normal practice is to divide the total into 3 equal payments:  Deposit, Drop-off, and Pick-Up.  If more time is required to pay the full amount, arrangements can be made on a case-by-case basis.
Initial Evaluation
All dogs will have an initial evaluation. This meet & greet gives us all a chance to determine which program best suits your goals based on my observations of your dog's current levels of behavior.
Evaluation is $75.  The Fee is credited back when you sign up for any Board & Train program.
---
14 Day Board & Train
Our 2 week program lays the essential groundwork for basic obedience, loose leash walking, off leash walking, socialization and reliable recall. When appropriate, we take the dogs out in public to restaurants and shops to test and reinforce newly learned skills. Owners are welcome and encouraged to participate in training beginning on the 2nd week. This program works best for owners who have the time and confidence in their skill level to continue reinforcement training on their own.
---
21 Day Board & Train
Our most popular dog training program is our 21 day Board & Train. We teach all basic obedience behaviors, walking on and off-leash, reliable recall, socialization & manners, how to live indoors with humans, as well as, working on specific problem issues. Our students go out in public places to practice and master newly learned skills under real-life distractions and temptations.
---
28 Day Board & Train
Our 28-day dog training program is appealing to owners whose dogs' needs involve more complex training issues.  This program is recommended for dogs who are highly fearful, timid, or aggressive.
---
Private Lessons – Offered November thru May
For some owners, private lessons can be the solution. I recommend this option for a couple of different types of situations. If your dog is almost there, but needs work on a couple of residual behaviors, this could be the solution for you. Or… If you would like to be an active participant in the training process and are able to practice, practice, practice at home, this could be a good option. Private lessons are 1 to 1½ hours and can usually be completed in six lessons or fewer.
---
Boarding Only
When space allows, this service is available to former "students" while owners are away. Book early, they just love to come back!!!
---
When you entrust New Dogs – Old Trix to train your canine companion, you can expect and rely on:
Owner-Oriented Protocol – As much as we love our dogs, the bottom line is that they need to acclimate to the realities of our daily lives as we do our best to fulfill their primal needs. Understanding these needs and implementing an effective and long-lasting training regime can pose difficult challenges to new owners. Your dog doesn't have to sacrifice a great of quality of life in exchange for a loving home.  New Dogs – Old Trix will build a training protocol to accommodate the daily needs of your routine while fulfilling the needs of your dog. Together, we'll find the way.
Documentation – While under my watchful eye, I will document and share with you all aspects of your dog's behavior and response triggers. During the training process, dogs share important information that the owner can build on once training is complete. I'll make sure you recognize these signals and teach you how to reinforce them.
Follow up – There is nothing more exhilarating than to see a dog progress and succeed. That's why it's so important to include owners every step of the way and provide follow-up sessions as needed. It's all part of the guarantee I provide for the life of your dog.
How can I help?
Call Susan at 520-886-6357 to discuss your dog training needs.